Shriram Foundation applies its core strengths for social good and innovation in the field of education. The Foundation aims for greater emphasis on allocation of resources towards increasing access to quality education. Our key achievements are significant and diverse.
Aiming for change and responding to clearly defined needs Shriram Foundation schools are given greater autonomy and support to develop their own initiatives in partnerships with local communities.
Provision of carefully selected learning materials, practical teaching facilities and environments improvised according to needs of students is paving the way for curriculum reform.
Improved training opportunities for school directors and teachers.
Increased participation of the rural community in the school's activities
Improved management and leadership by education-professionals at school level.
"I hail from Kanchipuram district, and staying in hostel just feels at home. The environment is so congenial for learning. It's been a year and half since I joined this course, and I have learnt plenty of techniques. Now I can effortlessly say the botanical names of the vegetables, their family, origin and medicinal effect. Where do green leafy vegetables grow? But I can plant drumstick in a pot and show you. Isn't that incredible? Field visits to a 2 acre land gave us a world of experience and enticed us to explore more and more. I just have to say, this is my second home where all of us are indisputably treated equally. I couldn't have found this anywhere. Very happy to be here!"
--Kalpana
2nd year SSVE Agriculture student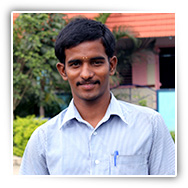 "Through this course I got to know about organic farming and their usefulness. I think I am an ardent fan of the concept "organic farming". I know what goes into it exactly. If I got a farm then I know what to do exactly. It is quite a lucrative business where people crave for a healthy commodity on daily basis. I think I can satiate the needs of all with my skill enhanced. Thanks to CIKS for that and we were showered with a knack to test the soil before sowing any crop. We knew how to go about organic farming, but Coimbatore University brought to us the facts and miniature in their exhibition. At the end of the day it is quite delightful to have gathered so much of positive episodes. It's unbelievable that I'll be graduating in few more months! All I know is, teachers here are truly parents, and we have to leave them and go on. It's not easy to explain how blessed we are to be in safe hands like this"
--Nagarajan
2nd year SSVE Agriculture student


"VTC is purely fun because while working in export company I had to slog 12 hours and work over time. There were worries incurable about home, but now it's completely different—my work place is where my children go to study and when they are done for the day I get to walk home along with them. Here's where I get the edge being part of VTC"
--Vijayalakshmi


"I am working here since VTC started off. It was a complete jump from working in a Shoe Company for 5 years and now in VTC. I underwent a three months training and later got a call from VTC to join. I not only know stitching, but also know to make mat, bags, hand wires, home products—like phenol, dhoop, incense stick, soap oil, pickles. All this makes me feel I have acquired everything a woman needs. This inspires me to come to VTC everyday! It's wonderful and joyous place to work!
--Kokila


"It's only been three months since I joined VTC, but I can feel a remarkable difference in my health. I am a low BP patient and found it very hard to be cheerful, but after getting in here and learning many skills made me understand how smooth and enjoyable life can be. The work culture is so lively and friendly. I get to bond with my co-workers as sisters, and the reciprocity is absolutely phenomenal to see. My instincts always showed interest towards teachers training course, but nevertheless I am trained by VTC and I too teach school children with tailoring. The beautiful aspect to my sewing and stitching classes from VTC helps me design and fabricate frocks for my daughter. I am generally not in the habit of buying clothes for her. It's my creativity that spells over few fabrics that finally turns into an elegant frock. The work place is so peaceful that I get to take the same to my home. VTC has bolstered me with confidence to an extent where I could conquer in any realm with patience and calmness"
--Sarada