Skill Development and Livelihood
In line with the Government of India's Pradhan Mantri Kaushal Vikas Yojana, skill development was identified by Shriram Foundation as a major focus area for furthering its vision of empowering youth and women. To supplement the 1 year certificate programs being run through its Vocational Education centres, SF decided to reach out to unemployed youth through short term courses linked to placement. The foundation tied up with different training organisations to sponsor courses with large employment potential.
Beneficiaries of Skill Development Programs 2015-17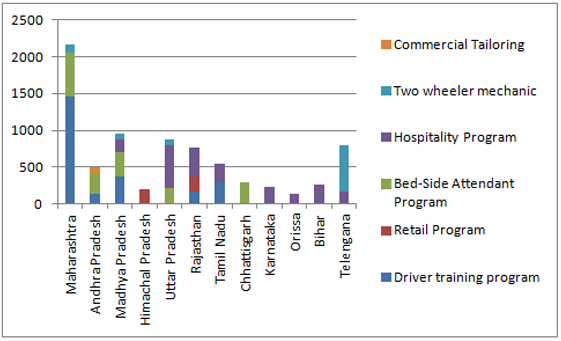 Partnership with Rise India (2015-16)
Under this partnership Shriram Foundation identified road transport, retail and hospitality sectors which were fast growing and offered large number of opportunities for youth. Rise India mobilised and oriented youth from different geographies and enrolled them for job-oriented courses. The courses offered were driver training (Heavy Transport Vehicle, Light Motor Vehicle, Fork-lift operator), customer support executive (for retail industry), housekeeping and food and beverage service (for hospitality industry). The trainees received inputs in soft skills, spoken English and communication, health, safety, yoga, financial planning and computer operation apart from the core job-related skills. Job fairs were conducted and candidates were placed with transport operators, hotels and retail chains. The placement record was satisfactory at over 50%.
Driver training program
Retail and Hospitality program

Partnership with Pratham Education Foundation (2016-17)
The skilling and livelihood program of SF focused on 2 sectors in the year 2016-17. Hospitality received continued support because of good placement track record. To give a thrust to women's empowerment, a training program for bed-side attendants was launched. In all 2000 candidates were trained under the partnership with Pratham. Hospitality trainees were placed with 3 and 4 star hotels. Bed-side attendants were recruited by hospitals and nursing homes and also by Home Nursing Placement agencies like Portea. The placement record was extremely encouraging at over 90% for Hospitality and over 70% for Bed-side attendant programs.
Bed-side attendant program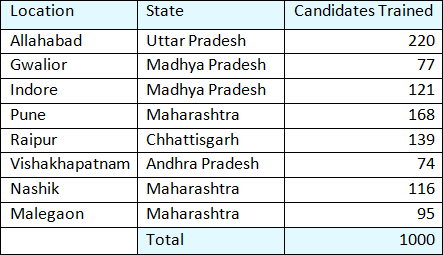 Hospitality program