Chennai Flood Relief Operations
Shriram Foundation has successfully completed its efforts in rehabilitating the victims of the devastating rain and floods that hit Tamil Nadu in Dec'15, the worst calamity in a century.
The Foundation set up a special fund towards relief operations.
Total funds received as donation - Rs.5.17 crores



Shriram Group Companies contribution - Rs.3.35 Crores
Other Corporate Donors - Rs.49 lacs
Employees' contribution - Rs.1.21 crores
Individual donors - Rs.11.4 lacs




Our special thanks to Apax Partners, Sanlam Group, Treeline Group, Care Trust, India Infoline, Rise India Solutions, Bhaarat Welfare Trust, Multiples Alternate Asset Mgmt.P.Ltd and Scout Business Servies P.Ltd.

The relief work started in Dec'15 and continued till mid. Feb.'16.
Over 300 volunteers of STFC & SCUF were involved in providing first aid, moving the sick to hospitals, cleaning school buildings, distribution of potable water, bedding, clothing, cooking utensils and books for school children.
Assistance was aimed at addressing

Repair of homes and dwellings
Livelihood restoration.
Over 10,000 kits containing essential items like rice, cooking oil, mats, saree, dhoti, etc. were distributed in and around Chennai and Cuddalore.
Kitchen equipments, iron boxes, sewing machines, carpentry tools, electrician's kits and painting material were distributed to help the self-employed in restoring and helping them to resume their professions.
Over 1500 deserving households were extended assistance in the range of Rs.30,000/- to Rs.50,000/- towards restoration of homes and revival of small businesses.

Amount incurred on flood relief operations - Rs.3.82 crores
Balance – to be used for providing education kits to children affected by the floods in the beginning of the academic year – June 2016.
We, at Shriram Foundation, are grateful to all the donors who readily responded to our appeal and contributed generously to the fund. We are also grateful to the volunteers and Group employees for their tireless efforts.
A very special thanks to the Employees of the Shriram Group who have contributed one day's salary towards the Chennai Flood Relief.
The flood relief efforts were carried out under the direction of Ms.Subhasri Sriram , Executive Director – SCUF and Mr.P.Sridharan, Executive Director – STFC.
Manali
Discussion with Ms.Kannagi ( Sub - Inspector - Police Dept ) and our team
Mr.Sridharan, Mr.Ramanujam, Mr.Manoj and Mr.Veeramani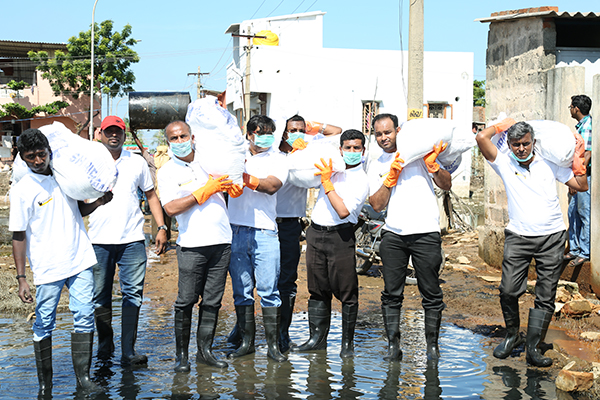 Manali
Team carrying materials for distribution
Mr.Ramanujam, Mr.Manoj, Mr.Ezhil Arasan, Mr.Arunachalam, Mr.Sridharan and Mr.Venkateshwaralu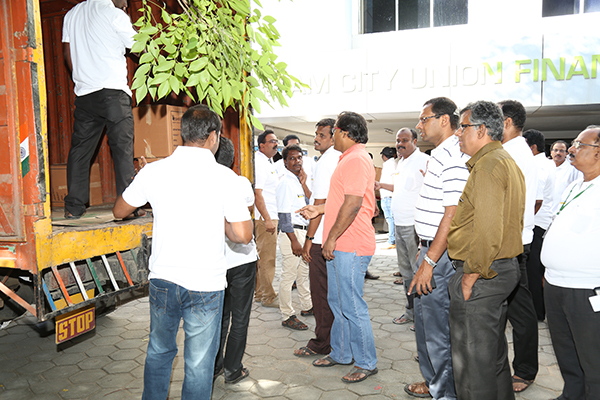 SCUF OFFICE SANTHOME
Materials loaded - Supervision being done
Mr.Arunachalam, Mr.Ramanujam, Mr.Sridharan and Mr.Shantharam
STFC
distributing Relief Materials
Mr Venkateswara Rao – STFC AP and team
STFC Team with beneficiaries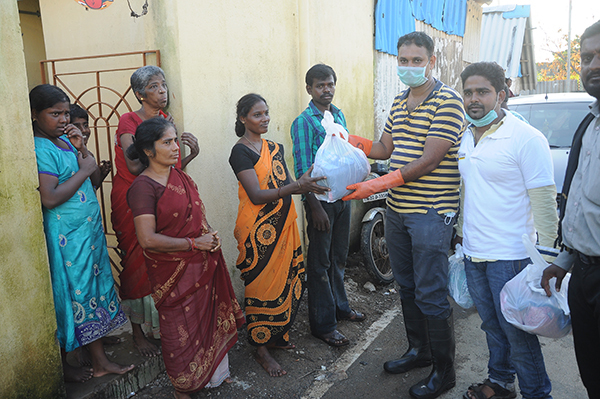 Door to Door Distribution of relief Materials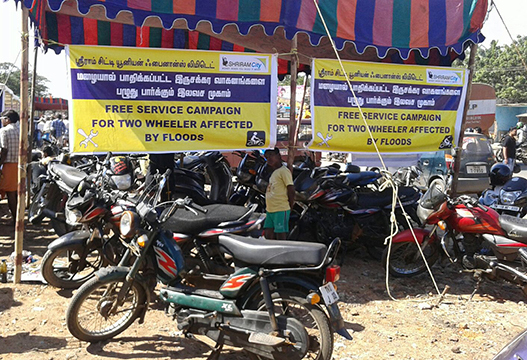 Royapuram
Vehicles at Two Wheeler Service Camp
Two Wheeler Service Camp Headed by Mr Gopinath & Mr Rajendran - SHRIRAM CITY
Mr Srinivasan and Shriram City Team engaged in cleaning a school at Pallavaram.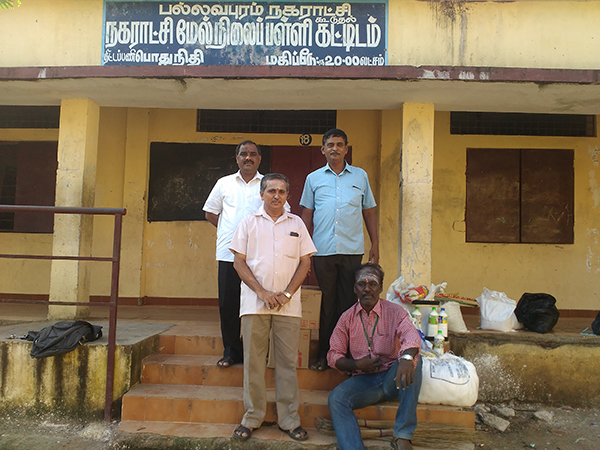 School Cleaning Team at Pallavaram Govt. High School. Mr Krishnan & Mr Srinivasan - SHRIRAM CITY